"Buy or Sell Your Home With Me, and I'll Provide the Move for Free"
Sun City/Surprise $275.00 for 1- 26'ft truck- 2-men- 3hours
Take $10.00 off for cash payments
I accept Cash-Personal Check-PayPal- Credit Cards (call for details)
NO EXTRA FEES!
Time begins on arrival (not when we leave the office) ends when all service is complete. Hourly rate after the 3 hour minimum is met is $67.00 per hour- billed in 15 minute increments. For bigger moves add a 3rd man for an extra $18.00 per hour plus an hour travel- Standard valuation insurance is .60 lb. per item. We are teamed up with Baker International and MovingInsurance.com if you want full coverage. I hire only the most reputable and trustworthy men in the valley. Ive had the same crew for 5 years. We are highly reviewed at the BBB and carry an A+ rating. Nearly 5000 moves since 1998 in the Sun City, Sun City Grand, Surprise area, but we move Valley, State, and Nationwide- We only do one move per day so book early with the best moving company in Surprise
Check out New Start Moving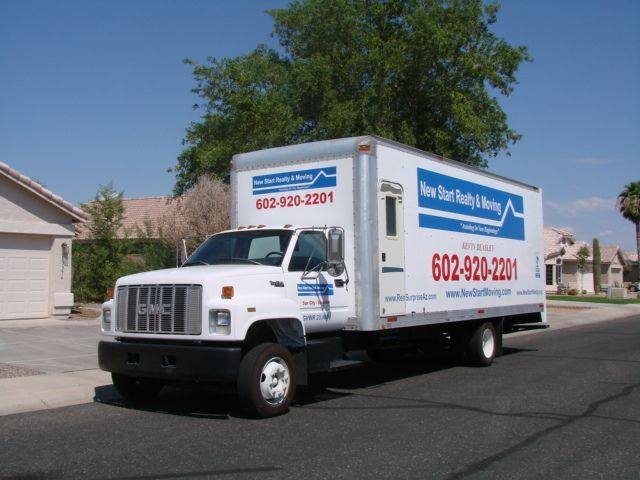 Licensed, Bonded & Insured
Calls Taken 24/7
**Free moving service offered for all my sales clients and discount services for all rental clients- some restrictions apply Call Kevin for details**

About Us | Moving Interstate? | Local Moves | Contact New Start Moving | Moving Tips | Client Testimonials
New Start Moving takes your privacy very seriously and will not share any information about you with another party. this strict policy will NEVER change. This includes automatically gathered data such as e-mail addresses, browser cookies, and IP addresses. It also includes any information submitted via an electronic form such as name, address and phone number. If you believe that your information has been compromised in any way by your use of this web site, please e-mail the webmaster immediately. We will work to resolve the problem as quickly as possible.